(Full disclosure – I was an evangelist for Madcap Software from late 2007 to 2009. Still one of my favorite jobs ever.)I've been using Flare since about version 3 and watched it grow and become more robust over the years. I often recommend it to clients as the solution they're looking for because it does what's needed in a solid sort of way. If you are working in a topic-based environment, or want to, this is the Best In Class tool. The new version of Flare came out about 4 weeks ago and I thought I'd write up a...
read more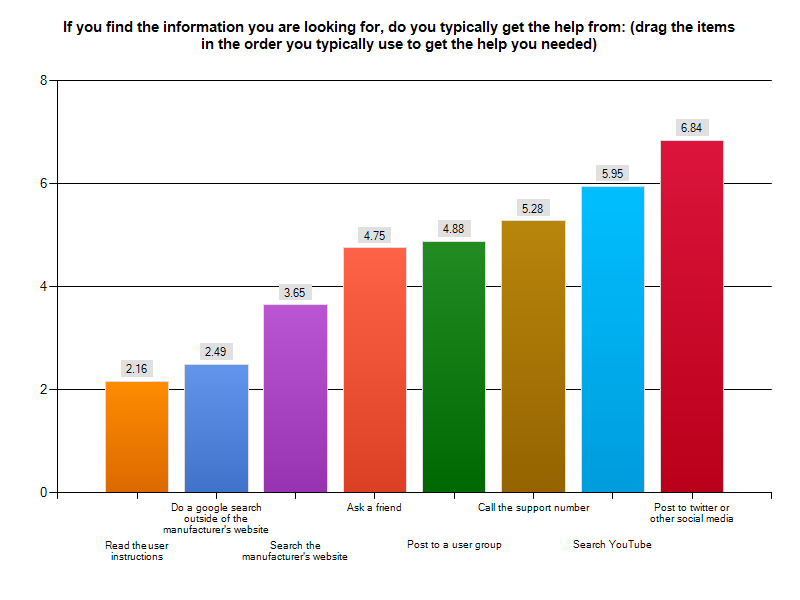 As you may know. I have a small poll running, asking 5 questions. As of this date, 111 people have completed the poll. The results are interesting so far. This is preliminary summary. Question 1 When you can't figure out how to use a product, do you: Question 2 If you find the information you are looking for, do you typically get the help from: Question 3 Do you prefer product instructions as: Question 4 If the information has a few misspellings or other small errors, do you feel the information is less trustworthy or less...
read more
As you may know, I've run the Consumer Opinion poll about product instructions for the last 2 years. The updated results are available now in two versions: The free version The paid version What's the difference? The free version shows you the data, compiled into tables and graphs. The free version doesn't include any discussion or analysis of the content. The free version also doesn't include the comments people made for nearly all questions. The paid version* is a reasonable $6.99 and includes discussion and...
read more
On a lark, I ran a poll asking what people thought of either the product instructions they use or they create. I'm curious if there is a difference. I asked both groups to select from the same keywords – 5 of which seemed negative and 5 seemed positive to me. I asked each group to chose 5 that resonate. There results are in. With 182 total responding, we see (click the pictures to see them larger): Consumers Consumers (n=77) chose helpful, incomplete, confusing, accurate, and logical as the top 5 words that apply to product...
read more
You may recall that I ran an opinion poll about this time last year to find out how people feel about product instructions. The results from that poll are available here. It's time to do it again. This year, I've added 3 questions all around the cost of a product and expectations about product instructions. My gut tells me that the more you pay for a product, the more you expect the product instructions to be clear and helpful. That's my hypothesis and I'm interested in how the results hold out. Go take the poll So, to...
read more
In case you've not heard, a new version of Madcap Flare/MadPak has been released. Full disclosure: I worked for them as product manager/product evangelist before the economy tanked. One of my favorite jobs ever. This is not a feature by feature review – I'm just focusing on things my clients typically care about. For a complete list of what's included in this new release, see the Madcap software description available here. This is all my thoughts and opinion. (As we go, click the images to see them bigger) Flare Most...
read more
Title:  Clear Writing: Simple steps to make your communication clear Date: Tuesday, February 5, 2013 Time: 9:00 AM – 10:00 AM PST Click here to sign up Overview Good communication starts with clear thinking. Regardless of what you're writing, people need to understand what you're trying to say. And that's what I'm talking about Feb 5 at 9am Pacific. Attend this free webinar if you are involved in: proposals blogs social media user instructions policies and procedures video scripts In one hour, you learn specific...
read more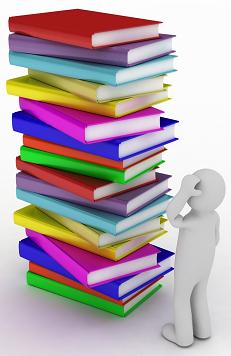 Results of Consumer Poll or Why your customers are mad at you In the world of product development and marketing, we have a myth that "no one reads the product instructions". Inherent to this assumption is that product instructions are not important and can be ignored, as they are of no value. This webinar looks at the results of a survey done in mid 2012 and contains some surprising results and actionable steps your company can make to differentiate your products and your brand from your competitors. For example, 74% of respondents use the...
read more