Perceived quality of product instructions
On a lark, I ran a poll asking what people thought of either the product instructions they use or they create. I'm curious if there is a difference.
I asked both groups to select from the same keywords – 5 of which seemed negative and 5 seemed positive to me. I asked each group to chose 5 that resonate.
There results are in. With 182 total responding, we see (click the pictures to see them larger):
Consumers
Consumers (n=77) chose helpful, incomplete, confusing, accurate, and logical as the top 5 words that apply to product instructions.
Technical Communication Professionals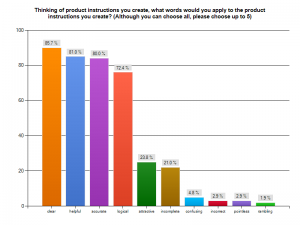 People who create product instructions for a living (n=105) chose clear, helpful, accurate, logical, and attractive.
Notice that consumers chose "attractive" as the least word.
Compared
To show you what these look like compared to each other: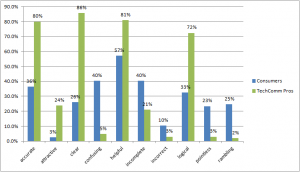 Or another way to visualize it: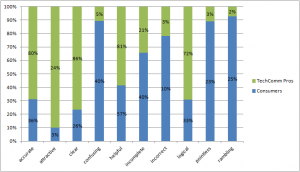 Your thoughts? What does this hint at to you?
By Sharon Burton