Neither your content nor your product are Jimmy Buffett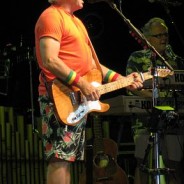 Recently, I saw a vendor advertising a webinar on Twitter, which at the time, was about 10 days away. It looked interesting so I clicked the link to sign up. The description looked even more interesting but I didn't sign up.
Why?
Because the sign up link is "Check back soon for registration details!". Today, Just under Less than a week before the webinar, there's still no finally a signup link. I assume some time before the webinar, there will be a sign up link but I have no idea when. At this point, I'm I was checking back several times a day, out of admiration at the silliness of the whole thing.
And, as one who has set up and hosted hundreds of webinars (and written a book about doing amazing webinars), it's not hard to create the signup page in GoToWebinar, copy the link, and paste it on your webpage.
Getting Jimmy Buffett tickets
I'm a Parrothead. I've been to several Jimmy Buffett concerts and simply love them. I love the hours of parking lot party before and the dancing and singing for several hours with 20,000 of my closest friends. It's just fun stuff all the way.
However, it's pretty hard to go to a Jimmy Buffett concert. When the tickets go on sale, they sell out in 5 minutes. Tens of thousands of people sit in front of their computers, clicking Refresh like crazy, until the tickets go on sale. If you don't get tickets in the first 5 minutes, you won't get tickets. (One of my secret Bucket List items is to sit in the first 5 rows at a Buffett show. One day, maybe.)
And that's one show. Every show sells this way.
20,000 tickets in 5 minutes. Talk about an invested and motivated audience!
You're not Jimmy Buffett
Your content, your webinars, and your products are not Jimmy Buffett. You don't have an audience of tens of thousands hitting Refresh like crazed people. No one is dancing and drinking in your parking lot for 6 hours before you release your content or your product. You don't have a song about Margaritas.
Why?
You're not that interesting.
I don't care what your product or your content is. You're not Jimmy Buffett. You don't have a Pencil Thin Mustache, nor are you the Son of a Son of a Sailor. We're not going to spend three hours singing songs with you and dancing.
I think the vendor is under the assumption that people are going to check back frequently to see if the signup link has finally appeared. I think they feel they are building excitement for the webinar. I think this silliness is by design.
I think that's, at least, a naive design, if not actually a stupid one.
No one cares
People have busy lives. Your content, your products, your webinars are very low on their list of important things. You have about 15 seconds to get someone's attention and have them take action. And then you lose them. Probably forever.
Nothing you do has an invested and motivated audience the way Jimmy Buffett does.
This may surprise you because you spend your entire day motivated and interested in your content and products. You think about product development and content development over dinner, while you brush your teeth. You have focus and excitement.
But the market is wide, the options for your potential audience is deep, and attention is short. You're not that interesting.
Bottom line
If you want to get the attention of your audience, make it easy. Don't post about webinars until you have the sign up page ready. Don't tell people content is coming soon and then go days before it's released.
Do everything you can to make life painless and easy for your audience to engage with you. Think of it as providing Margaritas in the parking lot.
I'd like to be applauded for not playing with Jimmy Buffett song titles for the headings in this article. It took enormous self restraint.
By Sharon Burton