Flare v9: it's a good thing
In case you've not heard, a new version of Madcap Flare/MadPak has been released. Full disclosure: I worked for them as product manager/product evangelist before the economy tanked. One of my favorite jobs ever.
This is not a feature by feature review – I'm just focusing on things my clients typically care about. For a complete list of what's included in this new release, see the Madcap software description available here. This is all my thoughts and opinion.
(As we go, click the images to see them bigger)
Flare
Most of the improvements I care about in this version (for my clients) are small things. But these are things you do every day and now they work smarter. The 3 things I care about in Flare are covered here, plus one thing that's still not fixed.
Saving stuff
For example, when you add a new thing, like a new topic, Flare remembers where you are in the folder tree and suggests placing the file there. This seems small but if you have a project with 5,000 or more topics, this is actually huge. Now, if you are clicked on a folder, that's where the topic (for example) goes by default. Of course, you can change this location while you are creating the topic or later by dragging and dropping.
XHTML vs text editor view
If you are working with a tool that create text files, such as Flare and the XHTML files it creates, it's a really good thing that you can get into the actual code sometimes. No matter what tool you use, sometimes the code gets messed up or you want to do something complicated. Flare easily let you into the XHTML code for a long time, but now it has a split screen, which I'm in love with.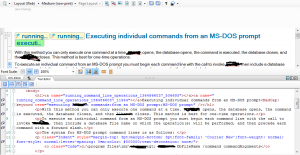 This is very cool. It's enough to get the new version, I think, because it's just working smarter all the way. Now you can see what you're doing and where. Perfect. Well done!
Updated  Targets: epub and epub check
Most of my clients are not yet publishing to epubs but they see it coming. I'm publishing personal stuff to epub and making it available on Amazon and bn.com. The ease with which Flare publishes to epub matters to me.
The thing I like the best here is that right in Flare v9, you can download EpubCheck and Amazon's KindleGen, which verifies your ebooks in each format after you create them. And that I can create an epub and MOBI file at the same time. This is very cool stuff.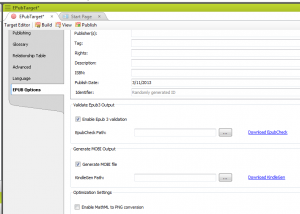 The multi-entry glossary in webhelp is
not
fixed
I have a client who uses the Glossary feature in webhelp extensively. For their users, this is important. You create glossary words and definitions. And to get Flare to pick up all possibilities, you add all versions of the keyword, as shown below.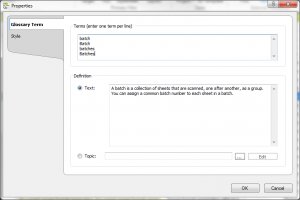 The real problem is that when the help is compiled into webhelp, all variants of the keyword are shown in the Glossary pane. This looks stupid and the client has users complain about how stupid it looks. And we in the tech pubs group get to say "Working as designed."
The client suggested better ways to do this to Madcap at least 4 versions ago and we were really hopeful they might have fixed it. Not yet.
I hold out hope.
Analyzer
I personally love Analyzer. It finds and fixes issues in your project. I love how it works and what it finds. However, it's slow and for projects the size my clients work with, it can be like running through jello. Performance falls apart if your project is larger than about 200 topics. Unfortunately, most of my clients have projects in the thousands of topics range. For projects that size, Analyzer is useless.
Now you can set the number of results gathered in some of the items Analyzer finds, improving performance.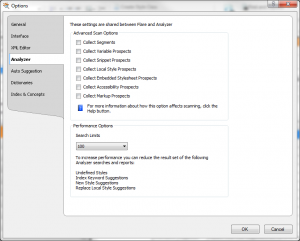 This may not solve all performance issues but it's a great step in the right direction. I see performance improvement on a large project.
Overall, this is a good release so far

If you are wondering if it's a release you should jump on, then I think you should. One of the biggest deals, if you need it, is native right-to-left text. My clients don't need it but if you do, this is a fantastic new feature.
I think the performance fixes for Analyzer and the split XHTML are good reasons. I'm also very interested in the new product Pulse. I see this as a great way to involve customers and get feedback from them. I'm looking forward to seeing it as MadWorld.
MadWorld

If you have not signed up for MadWorld in San Diego in April yet, you really should. While many of the presentations are about Madcap products, not all of them are. I'm attending and presenting but I'm especially interested in hearing some of the speakers. There are a lot of really smart people attending!
Go and sign up. See you there!
By Sharon Burton