Flare 10 – or one of the best ways to support topic-based authoring
(Full disclosure – I was an evangelist for Madcap Software from late 2007 to 2009. Still one of my favorite jobs ever.)
I've been using Flare since about version 3 and watched it grow and become more robust over the years. I often recommend it to clients as the solution they're looking for because it does what's needed in a solid sort of way. If you are working in a topic-based environment, or want to, this is the Best In Class tool.
The new version of Flare came out about 4 weeks ago and I thought I'd write up a bit about it.
Note to you: I'm all about making life easier for the write so s/he can add value by creating content. And Flare 10, again, is doing that in big and small ways.
What I like
Overall, I like the new version a lot. More and better.
More templates
When you first open the new Flare, you see a carousel of templates. I'm very happy with some of these, as it's going to help clients who need to create more complex layouts. For example, you can select Slideshow, Online and Print Advanced, eBook and more marketing sort of layouts.
If you want to add these sorts of outputs later in your project, you can. You're not limited by the decision you make when you start and perhaps had no idea what else you might need. Or when someone comes into your office and announces you need a 4 page marketing piece using your content.
Importing content
In previous versions if you reused an Import file, it happily deleted all your previous files and reimported all the new ones. Even if you removed all the previous files from the import list and selected all new ones.
It was a delightful improper function that cost me 2 days of work at one point.
Fixed! Now it works the way you expect. Which rocks, because you really want to reuse imports. After you get everything set up and it's all working the way you expect, you want to reuse it for importing buckets of legacy content. Sweet!
And the content comes in better now, too.
Responsive layout
In this Wild West of content delivery, you need to be ready for anything. Many of my clients are not yet delivering for all devices but most of them see it coming soon. I love the new responsive layout templates allow you to publish and your content "adapts" to the screen of the device your user has. And it's easy to brand to look like it needs to for your company. Love this!
Save Project as Template
Love this feature. One of the things I often do for clients is set them up with all their templates, etc. Now I can save the entire project as a template and they can import it into their project. It makes life easier for everyone. Excellent! Good work.
eBooks
I publish perhaps 6 eBooks a year and it's always a giant pain. Flare is my GoTo tool for putting together the content for an eBook. The improvements are wonderful and make it even easier to create my eBooks. Bravo!
Most important to me? I can specify right in Flare where and how to validate the eBook, reducing a lot of my time.
Building speeds are much improved
I'm so happy the builds are faster than previous versions. When your build take 25 minutes and you're changing a few small things under deadline, that gets old fast. The 25 minute build now takes about 10 minutes.
Small stuff
In 9, there were many little UI buggy things that drove me nuts – like selecting multiple styles in the Stylesheet Editor, right-clicking and changing one value. Click OK and not a one style changed.
Often the UI would just throw a black box over the screen and become unresponsive. If you waited, typically it would recover. Sometimes not. Sometimes you had to wait 10 minutes before it threw up. Sometimes you simply had to crash it.
I've been in Flare 10 for almost a month and haven't seen this yet. Another Bravo to the team.
I know that bug fixes are not the big deal but when they're bugs that you encounter every day and waste time, it's really nice to see them fixed.
Overall, well done!
If you are thinking about updating to the new version, I strongly recommend it. It's more stable and some of the new features are very helpful.
What I don't like
The updated docs.
The (many many) PDF guides are shown to you in a rotation inside Flare now. You click one to select it. You get no message that anything is happening. You click a few more times. What's happening in the background is the PDF is being downloaded to your machine and opened. But since you get no message, you wind up with multiple copies of the same PDF.
I also don't like the insane reuse of snippets. Many times, right where the sort of information I'm looking for might be, what's actually there is the many many ways you can open the Stylesheet Editor, for example.
As I tell my students: Pick one, typically the easiest. Stop telling us all the ways all the time. Trust your more advanced users to figure out one of the other ways to open the dialog box and don't confuse your beginner users by hitting them with all the ways all the time. Help them by making it simple.
Also – if an area of the screen has a lot of options, I also tell my students, when you cover those options in the docs, cover them in the order they appear in the UI. Don't alphabetize them, unless that is the order they appear in the UI. The Flare docs don't do it often but they do it in a few topics. And it's maddening. For example: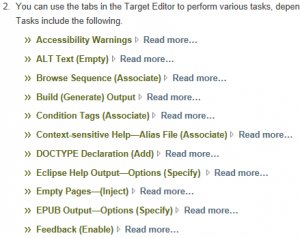 And the Read more… links don't work.
Here's why it's maddening – the reader sees a structure of items on the screen. The reader goes to the help doc and sees another structure of items is in the help topic. What you, the writer, have done is increased the cognitive load of the reader, who is already managing high cognitive load area trying to figure something out. You're forcing the reader to do a menatl gymnastics to find the information.
What the writer is actually doing, in an attempt to make it easier to find the information, is making it harder to find the information. That's not good. Flare is a complex product. Most users are in the help docs because something isn't working the way they expect or they don't understand something. High cognitive load when they look something up.
I know many of the Madcap people still (and love them!) and I'm certain these issues will get fixed. One of the best things about Madcap is they get Customer Experience and actually care that you use and like the products.
In sum?
If you are on the fence about the new version, jump into the Flare 10 field. You won't regret it.
By Sharon Burton