Customer experience and product instructions (part 3)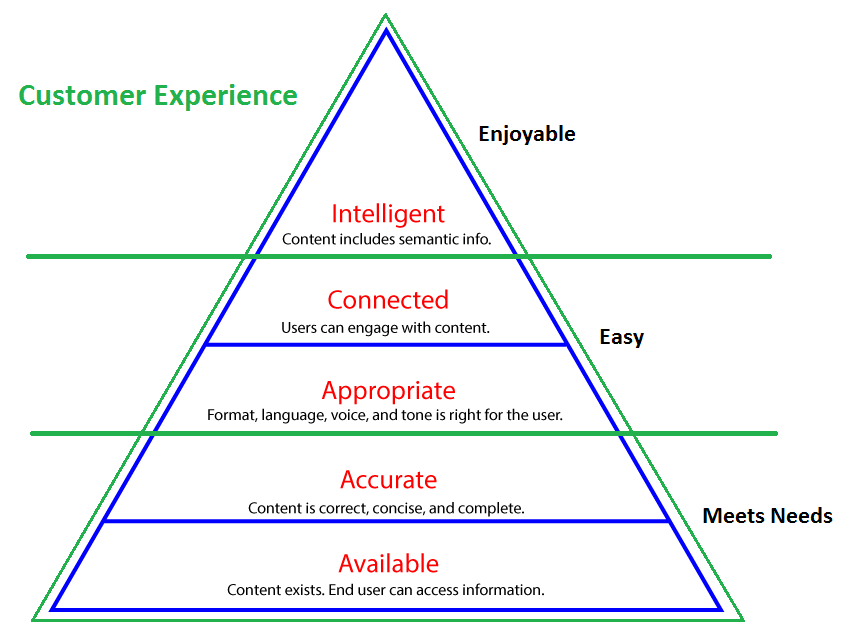 So far in this series of articles, I've covered some business/customer experience basics, like what is customer experience and customer churn, and the value of customers and the pyramid of customer experience.
This article is focused on that pyramid and on another, related, pyramid a very smart person blogged about the other day.
Content Needs
Sarah O'Keefe over at Scriptorium blogged about a proposed hierarchy of content needs. Her point is that there are levels of content needs that your customers have and these needs are foundational to any content strategy. This is her picture of the content needs and expectations of your customers:
 At the bottom is Available, in that the customer must have access to the content. For example, delivering one copy of a user guide and no online help for an enterprise product makes the instructions to use the product unavailable (because the manual always gets locked away with the source discs).
But she also wisely covers PDFs that are unsearchable, for example. While the content may be in the 300 page PDF you provide online, if the content isn't searchable, then your users can't find the information. It might as well be locked away.
Moving up to the top of the pyramid, we reach Intelligent content. Sarah cleverly says:
Intelligent content might include content that is personalized, [such as] interactive service manuals, the ability to filter information based on my needs, and more.
This is content that invisibly makes the customer happy and meets their needs with little to no effort. It just magically "knows" what and when it should appear.
Customer experience needs
The customer experience world has a similar pyramid about meeting the experience needs of your customers. For example, from Social4ce.com:
I talked a bit about this pyramid in the last article. But when I thought about Sarah's content needs pyramid and the customer experience pyramid, I saw that they are very similar.
Using Sarah's and adding my own pyramid (green lines), we get:

Content needs and customer experience combined
This is where product instructions fit into your customer experience program. And where your customer experience program fits into your technical communication program.
I think Sarah is going to argue where I drew the top of the Meets Needs line. I'm open to discussion on that, but I drew it where my gut (after 20 years of working in this field and working with customers) tells me the customers might draw it. A discussion may be important to flesh this out further.
Bottom line
If we're short changing the product instructions or not paying attention to them as part of the customer experience, we're blowing it. If we're depending on customers to call support to understand how to use our products, we're using the most expensive method possible to help our customers.
We're also aggravating them, because we shipped a set of instructions with the product. Why did we pay for the instructions to be created and not get our customers to the top of both pyramids?
More next week
Next week, I'll pull numbers from the technical communication world and apply them to metrics in the customer experience world. For example, we've known for years in the tech comm world that good instructions reduce product returns and reduce support calls.
 Your thoughts? 
By Sharon Burton