Crafting information for your audience
Twice lately, I've been struck at an odd organization of information. I think this matters.
10,001 easy solutions to everyday problems
Like so many of us, I'm a sucker for solving household problems with regular stuff on hand. So when I saw this book at the local store, I bought it.
The book covers various household things like lemons and what you can use them for. Notice how awkward that sentence is? It's because the first part of the book is structured around the household item, not the problem.
So, if you're looking at salt, for example, wondering what you can do with it, there is an entire section all about that. But most of us are not looking at salt and thinking:
"I just don't do enough with salt. I wish I knew more I could do."
We drop an egg and wonder how to get that more easily off the floor (pour salt on the broken egg and it cleans up faster [page 42]).
Part 2 is smarter. It's structured around activity groupings – but it's less about ways to clean and more about ways to reuse things.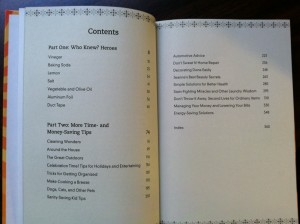 Medical Center signs
I was at my medical center for my every 2 year mammogram the other day. Because I don't visit often, I couldn't remember where they were located in the building. Helpfully, the medical center provides a large board right inside the door to help people like me.
Except it's all organized by floor (they wouldn't let me take a picture). Each floor is listed with everything on that floor. Which is great, if you are wondering what floor has what. But that's not how we use that board – we want to know where Radiology is (Basement, it turns out). To find Radiology, I had to scan each floor to see if it was listed on that floor.
Better would be an alphabetical listing of department with the floor next to the name. Because we don't look at the medical center building and wonder what departments are on the 7th floor. We want a specific department and want to go directly to that department.
Audience focused
The problems with both these examples is the content is organized backwards from how people use it. The content is accurate (as far as I know) but it's not useful because it's organized badly.
It needs to be reorganized with the information needs of the users in mind. Task-based to support the task at hand. Task-based doesn't always mean steps. Sometimes, it means providing information in a way that supports the tasks people want to do. Such as listing offices alphabetically and not by floor.
Your thoughts?
What have you seen that was probably completely accurate but not useful information?
By Sharon Burton