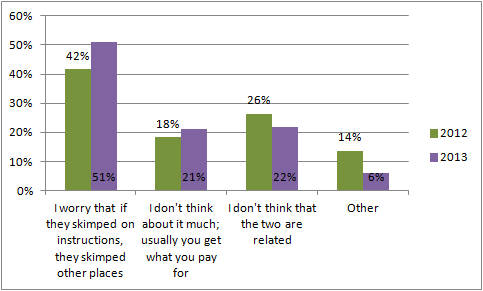 If you're in product development – marketing, development, or project management – you may have heard that "No one reads the product docs". And that's true, except it's also completely false. And for a limited time, you can get the proof for free. No one reads product instructions to see how it all turns out People read the instructions as part of task support. They want to know how to do something or what to do when something goes unexpected. Which means people read parts of the instructions and they...
read more
As you may know, I've run the Consumer Opinion poll about product instructions for the last 2 years. The updated results are available now in two versions: The free version The paid version What's the difference? The free version shows you the data, compiled into tables and graphs. The free version doesn't include any discussion or analysis of the content. The free version also doesn't include the comments people made for nearly all questions. The paid version* is a reasonable $6.99 and includes discussion and...
read more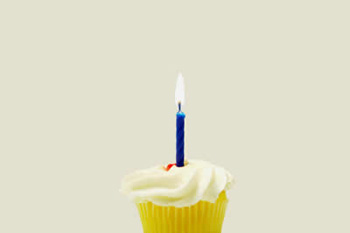 My birthday is the end of June and you get a present. For the month of June, you can purchase one or all of my ebooks for US$ 3.99. That's right. Here's what that means: This book Regular price Special for June Buy now Social Media and Product Documentation US$ 5.00 US$ 3.99* Amazon Barnes and Noble Consumer Feelings about Product Instructions US$ 5.00 US$ 3.99*  Amazon Barnes and Noble 8 Steps to Amazing Webinars US$ 9.99 US$ 3.99*  Amazon Barnes and Noble *international prices are the local equivalent of US$ 3.99. This price is...
read more
In the last poll I ran, I asked about how people use product instructions. We learned a lot about how and when people report they use product instructions, especially that 90% or more report they use the instructions that come with their products. This is a staggering result and completely kills the myth that "no one uses the instructions". In that poll I didn't ask if or how people might use social media when using products. I've been hearing the last few years that people are using social media to get help and that...
read more
If you want to increase the attendee rate for your webinars, it's all about getting the word out. My recent webinar was about just that. Attendees reported useful tips they can use right now. I shared some tips from Chapter 5 in my book 8 Steps to Amazing Webinars. If you missed the live webinar or want to review what I talked about, you can view the recording here: http://cc.readytalk.com/play?id=3wqr8p I'd like to thank ReadyTalk for a really fun time. They were professional and responsive. Great group of people! And we're...
read more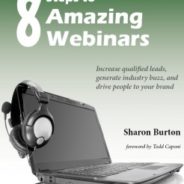 I have a new book available: 8 Steps to Amazing Webinars. About the ebook Every sales and marketing person involved in brand management, lead generation, and corporate positioning will find something that helps them create and manage professional webinar series. 8 Steps to Amazing Webinars is an easy-to-read ebook is full of tips and tricks to improve your lead generation, increase your sales, and engage your audience by running amazing webinars. Written by an industry insider, you learn how to create and manage professional webinars that...
read more