8 Steps to Amazing Webinars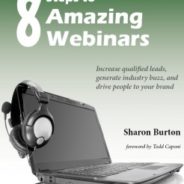 I have a new book available: 8 Steps to Amazing Webinars.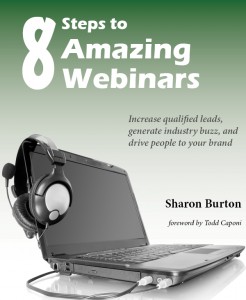 About the ebook
Every sales and marketing person involved in brand management, lead generation, and corporate positioning will find something that helps them create and manage professional webinar series.
8 Steps to Amazing Webinars is an easy-to-read ebook is full of tips and tricks to improve your lead generation, increase your sales, and engage your audience by running amazing webinars. Written by an industry insider, you learn how to create and manage professional webinars that customers and potential customers will love.
Sharon Burton has run hundreds of webinars and shares her tricks to create, publicize, and run webinars that make a difference to the corporate bottom line and generate leads. Learn how to select topics, find speakers, advertise, run, and manage after the webinar is over.
Regardless of the size of your company, using this advice will ensure your webinars are a competitive advantage and increase your corporate image.
8 Steps to Amazing Webinars is available at Amazon.com and BN.com.
Presentation about this topic
I'm available to present a webinar called The top 10 mistakes to avoid in your webinars. Contact me at 951-369-8590 or [email protected] for scheduling with your company.
By Sharon Burton